Calling all aspirant new members and recent new members, come to the Cottage, climb with us and check us out.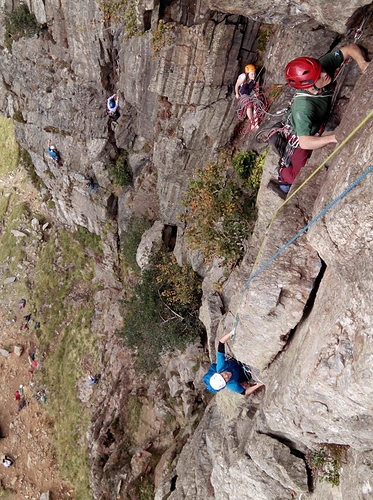 Carreg Wastad, New Members Meet September 2014
Who's invited?
Anyone who wants to climb and has an interest in joining our club. The new member's meets are the simplest pathway to joining the NLMC. If that's you, come along and get involved. There's no minimum skill level although you should have had some exposure to roped climbing, maybe indoors, maybe through scrambling. There's also no maximum skill level either: experienced climbers are welcome to come along and join too. Existing members are also needed to host our guests.
Accommodation?
We will be staying at at Bryn Brethynau aka The Cottage in Capel Curig. The Cottage belongs to the club and is fully equipped. The bedroom is fitted out alpine bunk style so you'll need to bring a sleeping bag. For more info, check the club website.
https://www.ordnancesurvey.co.uk/osmaps/53.0978940205,-3.8877671916,17
Free to members. £6 a night to guests / non-members.
What's the format?
We drive to Capel Curig in a virtual convoy on the Friday evening. When I know who's coming and what transport we have, you'll be allocated to a car. On Saturday and Sunday, we go climbing. If this is your first time outdoors, that's fine. You'll be paired with an experienced climber who will show you the ropes. All you need is bags of enthusiasm and psyche and competence belaying. We should be organised before we go, but we can have a quick meeting in the living room at 8:30am on Saturday morning to make sure everyone knows what they are doing.
What do I need to bring?
For climbing you are going to need a helmet, harness, belay device and carabiner, rock shoes and chalk. Not required but great if you have it: some trad gear and a half rope.
For your stay in the hut you need a sleeping bag. A head torch is required for the walk up the track to the Cottage and I always keep a head torch in my sack during a day in the mountains anyway.
You'll be out all day, possibly in a mountain environment so you need to dress for it. Bring a warm hat, gloves, waterproof jacket, warm clothes and appropriate footwear to access the crag. It's cool to climb in jeans but not if you're up high and the rain arrives and remember that your favourite lycra gym kit is likely to get trashed on the high friction rock so hard wearing clothing is a better bet.
What about meals?
Bring your own breakfast and stuff for packed lunches and maybe something to eat along the way on Friday evening. It's traditional for drivers to stop at Telford Tesco's but you should check with yours, to make sure. Saturday evening we will most likely go to the Tyn-y-Coed pub for dinner although there is always the option to cook at the hut if you prefer.
Where do we go climbing?
North Wales is unique in having an amazing diversity of crag venues. On warm dry days, we go up into the mountains, maybe climbing in the Llanberis Pass or the Ogwen valley. When we're not so sure of the weather, maybe we'll drive to Tremadog and sample the amazing roadside dolerite. For some adventure, we head over to Anglesea and climb on the sea cliffs at Gogarth. If the forecast is for showers, the slate quarries call: slate is actually waterproof! Any number of other options exist.
Okay, I am psyched and I want to come. What next?
Respond to this thread with the following details:-
Name
Your level of experience (e.g. competent outdoors sports climber, boulderer only, top roping, lead climbing / belaying, etc)
Where you are leaving from and what the earliest time you can get away on Friday night
What climbing gear you have
How you heard about the club
I will organise cars next week once I know who is coming.
If you have any questions at all, ask here or direct message me.