@MattGee @Dan @robertpirouet @Sarah_Rae @LIon @Kenny_Straggler @katy_c
This is so we can organise food for the meet

(obvs)
Katy and I are doing dinner (the meat one)
@Tui is doing Saturday pudding too. Thanks guys!
Err…sorry. Ignore this. I've just been told that there is already a thread that I didn't know about and I'm completely out of the loop.
Just so you all know, this is the state of this weekend's NLMC catering van

With no passengers, I've offered to bring up all the ingredients for Saturday breakfast and dinner and probably pudding. I've just realised that I have no experience of what 50 chicken portions and 168 eggs and 9kg of apples etc actually look like. You reckon I'll fit it all in? Sure it will be ok, will have fun squishing stuff down on Friday but if anyone is looking at this and thinking "no way" please do let me know !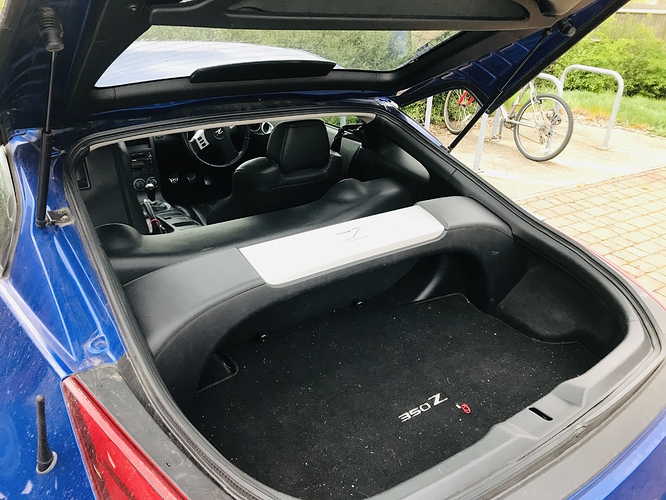 Think you'll struggle Kenny
Thanks Chiz. I'll get the breakfast stuff sorted tomorrow and see how we get on, and may need to reallocate someone else for the dinner stuff. It'll be ok in the end! No panic, just thinking it through in advance
Oh am I still on the wrong thread? Oops. Blame Wallbank

Is there any mileage in just getting a single big order delivered to the car park below the hut Friday evening? Has this been done before? Any pitfalls?
I don't think anyone has done it before! Doesn't mean it can't be done. I guess you could get pizza delivery now there's a gate rather than a stile…
Main issue is getting a slot that doesn't mean you have to hang around for hours, no idea if you can get stuff delivered to a car park
Usually we just share out who buys what for communal meals, and don't have 50 people to feed…good luck
Cheers Chiz. Reliable friends say it's totally feasible but I decided I don't want any unknowns in the equation so I've done a first round of shopping this morning as a tester and I reckon I can easily get everything in. Basically just got a load of bread, peppers, lettuce, beans, apples and chicken to add. Back of my silly car is roomier than I thought!
Hey Kenny already primed Aidan with possibility of us picking up dinner stuff in his car if needs be
yeah, more than happy to stop. I've got a big car and only two people in it.
There may be some apple shopping to do but I don't think so, I am assuming a typo.
Tui asked me to pick up 8kg of apples for the pudding and said this was about 100 apples. I bought 76 apples and this came to more like 2.5kg and it looks like LOADS, but I am in the process of checking this with her. 3x the apples I've bought, will be crazy IMHO! If I hear nothing from her, we take no action. I think people will survive

Thanks to everyone who catered in various ways. That was really great. Especially the apple crumble. @Tui can we have the recipe for the crumble please? Described by someone as "like eating extra thick hobnobs with apples", I've decided it's the best possible breakfast crumble ever. Veggie stuff was all really good too.