Hi all,
just to let you know that we now have a new wood store up at the Cottage. The store is stacked with split wood but this is not yet seasoned. The wood on the left hand side (looking at the store) is drier, (although by no means dry) so please take from there. Please make sure that there is some kindling drying off inside for the next users.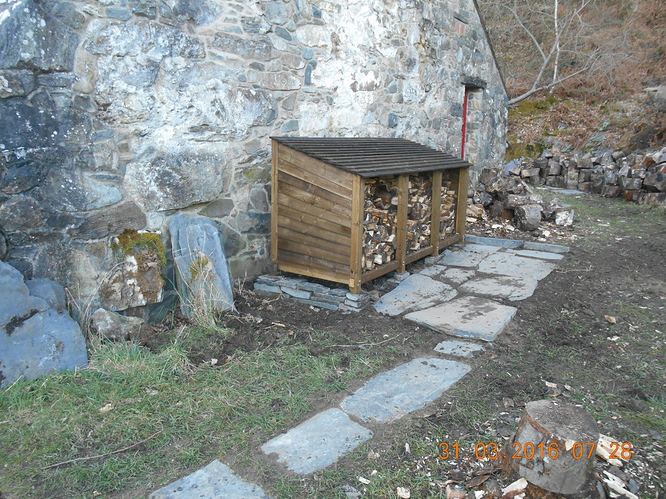 And a reminder that we cannot take ANY wood from the surrounding area.
Please do not split any more logs for now, we will get a proper rotation of wood once some has seasoned properly. I am planning a proper chopping block for splitting logs, there is a temporary one for splitting kindling. The new path and slate apron will be cemented in on my next visit.
We do have a large supply of logs at the moment, these are mostly from the two beech trees that were felled behind the Barn a few years ago. These logs were getting very rotten piled up and covered in tarps and we were in danger of losing a valuable supply of wood, albeit whilst gaining an extensive and exotic fungal collection. The new woodstore will help to make sure we can make the most of the logs, as well as housing future supplies once the logs are all used up. Please do not cover the log piles as this makes them sweat and rot.
The old temporary wood store will stay for now as we have such a glut of wood, thanks to Harri for reversing the fall of the roof at the Working Meet -it is now a lot drier in there.
Many thanks to Stel Holland and Ian Millard for their help in carrying the new store up the track,
Chiz